Details

21

Nov

Written by coolshades
From 'The Hurt Locker' to 'Hawkeye' and from sharks to fires, Jeremy Renner is fighting his demons and finding himself.
By Alex Bhattacharji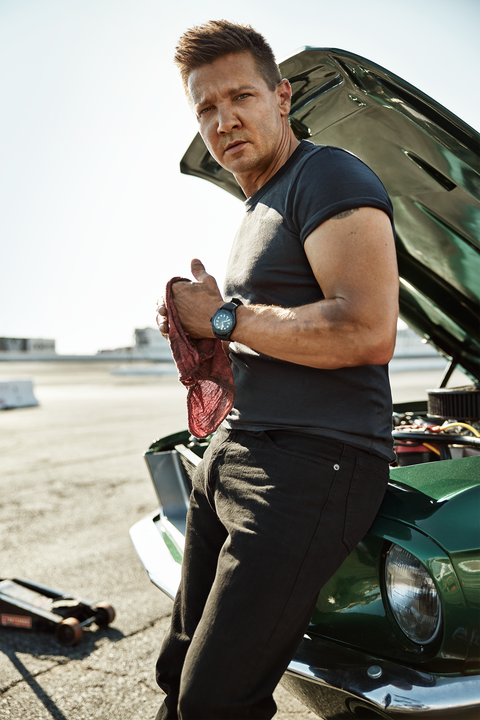 It's an early-October day, and as Jeremy Renner sits in the open-air lobby bar of Los Angeles's Sunset Tower Hotel, the breeze smells faintly of smoke. Wildfires are raging in California and across the West, and the Caldor Fire, which crossed over the Sierras near Renner's sprawling Nevada ranch above Lake Tahoe, is still not fully contained. Although his retreat was spared, it's at risk each wildfire season. "There's been a fire not a half mile from where my house is. Pretty threatening," says Renner, who has trained as a volunteer firefighter. "I'm using fire trucks for defensible space and for protecting my neighborhood, all the people up there."
Unlike the rest of us, he didn't spend the pandemic bingeing on Netflix and death-scrolling Instagram. He spent nights bidding on fire trucks in online auctions, and he's amassed quite a few. "I had 30 fire trucks a hundred feet from a hydrant," he says. "Not because they're there to firefight, but they all potentially could." That Renner collects fire trucks rather than muscle cars or McLarens should not come as a surprise to anyone who's followed the 50-year-old actor's career. They are, like him, highly pragmatic, more appreciated than loved, and easily overlooked until one is needed.
Renner's fire trucks also find surprising ways to be useful. They put out fires, of course, but he also retrofitted one of his hook-and-ladders for a different purpose: a birthday-partymobile for kids, topped with a bounce house. "A compressor inside the fire truck, it blows up the thing," Renner says excitedly. "On the side of the rig, Slurpee and snow-cone machines—all that stuff!"